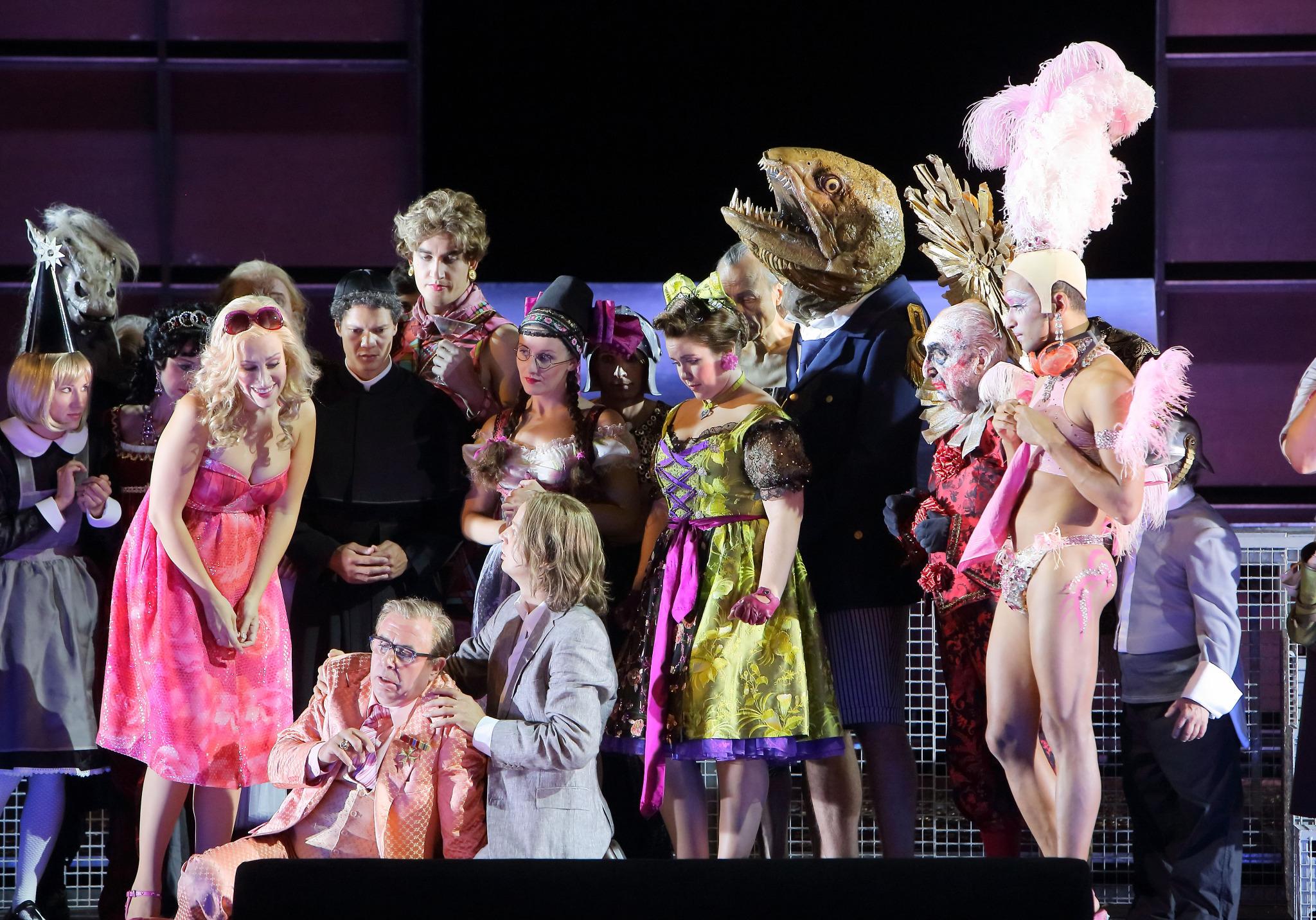 Wie kann man schlafen, wenn immer eine ganze Herde von Brüllhälsen wach ist?….Und lassen sie einen friedsamen Bürger schlafen? Nein, sie rennen auf die Straße, sie toben in den Schenken, sie kotzen die Nacht voll mit ihrem vermaledeiten Lärm!
"How can I sleep when it sounds as if there were a whole herd of animals in the place? Does anybody else sleep in this city then? Do they allow a peaceful citizen to sleep? No, they run through the streets, they roar in the taverns, they make noise the whole night through."
—————
I came to Munich with the intention of visiting Oktoberfest after hearing about the vibrant costumes (dirndl and lederhosen), party tents, delicious Bavarian food and, most of all, its easy-to-drink beer. Whilst planning logistics, I realised that the Bayerische Staatsoper was performing Die Schweigsame Frau so, I went along with friends and found the performance rather amusing. I discovered that, Oktoberfest's loudness and drunken mayhem was equally fitting for an opera that was also full of noise and bizarre sounds including a squawking parrot, dressed in a bright pink thong. Yet, on any normal day, Munich isn't as deafening or mischievous as Oktoberfest (or so I am told.)
Richard Strauss was immediately convinced by the Austrian Jewish librettist Stephan Zweig, who succeeded Strauss' former librettist, Hugo von Hofmannsthal following his death, to recreate Ben Jonson's 15th century novel Epicone(or The Silent Woman) into an opera. Die Schweigsame Frau has a interesting composition; but that being a work of Strauss, it isn't the most straight forward as it demands pace, and vocal and instrumental vigour from its musicians and singers. The opera was also – unfortunately – performed only a few times before it was banned in 1935 having faced many political backlashes from the Nazi party. If a letter with Strauss' critical views of the Nazis had not been found, perhaps, Die Schweigsame Frau would have been, more, world renowned like his other popular operas (i.e. Salome, Der Rosenkavalier) but until now, despite being performed in some opera houses after 1958, it stills hasn't received the same attention or treatment from contemporary houses.
[Given the lack of English surtitles in the Bayerische Staatsoper (which was expected), I tried to resolve this through a bit of due diligence thus, reading both synopsis and libretto, on the plane, beforehand.]
[This is a trailer of Kosky's festival première of "Die schweigsame Frau July 20, 2010 at the Prinzregententheater, Munich.]
Barrie Kosky, the artistic director of the Komische Oper and director for this production, had his festival première of Die Schweigsame Frau back in 2010 at the Prince Regent Theatre, Munich. He staged his production on the theme of 'concentration' where the audiences are meant to invest time listening to Strauss' sophisticated score and mint clean voices assigned to the zany characters of the opera troupe. Kosky depicts this, purely, through a shinny, bright and colourful fancy dress party with comedy running in and around the stage with a miserable Och, Morosus having to endure it all; yet he's a different kind of Och from Der Rosenkavalier. Morosus, as Franz Hawlata portrayed him, here, is an old philosophical man that, indeed, moans and groans and hates the sound of life, yet, deep down, holds no malice for anyone and, in some ways, symbolises ourselves at our worst and most critical self, allowing the audience to like him, just, a little bit more.

Bayerische Staatsoper have a distinct stage culture and are known for putting together quirky, eccentric and, sometimes, strange productions. Die Schweigsame Frau takes place on a reduced stage with a platform at the center pulling everything, opera, music and its weird personalities, together. There's a discerning distance between the main stage and the back where actors are seen walking to and fro, and off the stage, which alludes to the covert plans of the opera troupe and 'life's a stage' motif.
With the finer details, apparent effort and work that had gone into make-up and costume designing, the audience could play a game of guess who the opera character is? There are too many to note down here, but some fairly recognizable opera heroes and heroines that were presented included: Rigoletto, Brünnhilde, Tosca, Falstaff, Salome, Otello, Cio Cio San, Wotan and many more.
The stage is, rather, versatile and finds a way of re-using the platform as shown in act III where, before the opera begins, disco lights (which almost blind the audience) soar through as the platform is pulled towards the ceiling with multiple gold coins falling to the ground with Timidia (Brenda Rae) and Morosus (Hawlata) sat on the stage, gently enjoying the chimes and coins fall onto them.
Morosus (Hawlata) reacts painfully to any loud noise, whether it's good, bad or, even, the sound of happiness. Hawlata presents Morosus as a man who suffers from an auditory sicknessyet finds peace in the very end of the comedy. His voice was unflagging and the finale, and after thought of Morosus, proved calming and wonderful; despite not finding his silent woman, he realises the beauty of music as he sings, Wie schön ist doch die Musik – aber wie schön erst, wenn sie vorbei ist. This is perhaps my favourite aria of the entire opera and Hawlata does spectacularly well in ending on a climatic note dressed in pyjamas and hardly any hair; a deliberate device of Kosky in wanting the audience to consider Morosus' progress to enlightenment through the opera.
American Soprano Brenda Rae, as Aminta, was lovely on stage as she bought down the humorous tone with a touch of love and passion particularly in the middle of act 2 where we see her show a Timidia as if she were a timid coloratura soprano that held herself back from delivering a high C. When there were high notes to be made, she embraced them gently and softly, retaining the goodness of Aminta; yet in act 3, we see a brash and bratty Aminta that brings out the clowns, drums and tantrums again.
Her wedded Henry Morosus, by tenor Daniel Behle, however was less striking. Despite having a big role as Morosus' nephew, I was less impressed even if he gave inklings and hints of heart and warmth, there, just, wasn't enough. Nickolay Borchev as Schneidebar, or masseur in Kosky's production, on the other hand, managed to adopt great stage presence. Admittedly the opera is a mixture of sprechgesang and recitative and even if Borchev's role was spent more time talking, he did a good job of enunciated the German language lavishly (convincing me I should learn German too) whilst keeping the audience up-to-date on what was going on in this entertaining game-play.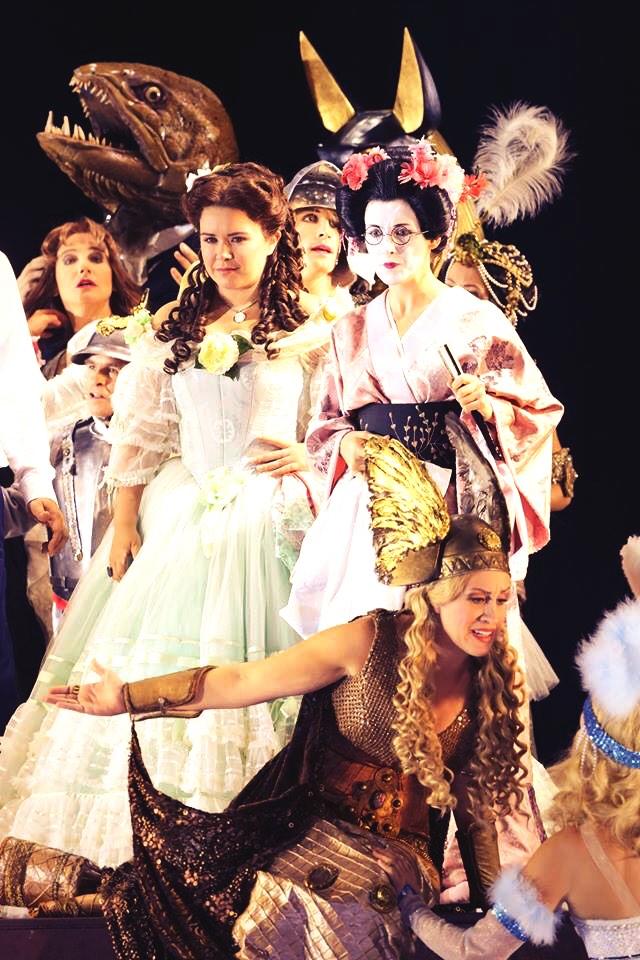 Okka von der Damerau as Morosus' housekeeper introduced the opera by spraying air freshener into the Bayerische Staatsoper's minimalist space in complete, utter silence, which cleverly set the tone for this, I felt, commedia dell'arte opera. As a loyal member of the Munich State Opera Company, since 2010, she also exhibited a loyal fixture to Morosus' life and her mezzo-soprano's status was sturdy and never faltered.
Tara Erraught, as Charlotta, and Elsa Benoit, as Isotta, were a pack of giggles to watch. Like two kids fighting over a toy, they also kept up the comedy's pretence and made the opera, even more, a pleasure to watch especially with their wildly coloured dirndl dresses as Schneidebart presented them to Morosus as if they were on a TV dating show (minus the camera man.)
The musicians of the Bavarian State Orchestra that were superbly led by Madrid's Pedro Halffter also played a serious and pertinent role in bringing Strauss' music off the ground. Although, the score and sounds may be mono, the orchestra and its singers were sonorous, fertile and potent. Would I see Die schweigsame Frau again? Yes, but this time with English surtitles.
There's a performance this week (11th October) and next year: (5th & 9th July 2015) at the Bayerische Staatsoper (Click here.)