Five operas in a space of seven days may seem like a tall order but somehow I managed to do all of them. The range included works by Fringe companies like Opera Vera (read review here) and Unexpected Opera as well as those at the Covent Garden and English National Opera (ENO). To my delight it was an even spread that pretty much captured the kind of operas happening in London – and my, (oh, my) there are plenty!
Royal Opera House: L'Étoile, Covent Garden ★★★★
However I must admit that the music glows and is highly addictive. The ROH Chorus sing wittingly to Couplets du Pal as they celebrate King Ouf's execution by impalement (yeah, I know – it's very weird!) By the end of it, I was humming a few catchy songs I hadn't heard before including Le chartreuse verte.
The opera is performed entirely in French, which is a good way to re-cap on your beginner's French (which you probably left behind after GCSEs), and like a Shakespeare, Mozart or Strauss narrative, there's a master of disguise, a trouser role, multiple plots going on and ridiculous love triangles. L'Étoile was composed by Emmanuel Chabrier and premiered at Offenbach's Théâtre des Bouffes in 1977. Parisians absolutely loved it back then and now, at the Royal Opera House, with some commendable additions – British comedian Chris Addison, breaking of the fourth wall with maestro Mark Elder and add-on slapstick dialogue – it is a fun-packed, entertaining production that I'd happily recommend anyone to see. Yet if you like your opera serious, sans kinkiness and completely covered with passionate and I-am-going-to-die-tragically singing, then this one may not be for you.
Addison and Jean-Luc Vincent, as Dupont, are the two comedy commentaries who interject throughout and sporadically, but I favoured this – I thought Addison was actually funny, especially when he points at the surtitles and realises he's in a real opera! Elder conducts jubilantly (and happily), and it's not hard to see why with Chabrier's highly spirited music. Hélène Guilmette (Princess Laoula) melted my heart with some scintillating singing, and mezzo-singer Kate Lindsey, as Lazuli, was a great match to her as the wandering pedlar who falls in love. In Lazuli's solo aria (in Act 2) Lindsey's voice truly blooms.
Much hilarity is maintained by exceptional performances through Samuel Sakker (Patacha), Samuel Dale Johnson (Zalzal), Christopher Mortagne (King Ouf), Simon Bailey (Siroco), Julie Boulianne (Aloès) and Aimery Lefèvre (Tapioca). And the flamboyant and freshly coloured set designs shouldn't go unnoticed – thanks to Julia Hansen for the crazy anachronistic satire of the 19th century and Arabian Night styles. Sadly, this one isn't PC enough for the kids as it is pretty saucy. No – it's very sexy! Unless they've past puberty then, of course – by all means, bring them!
English National Opera: The Magic Flute  ★★★★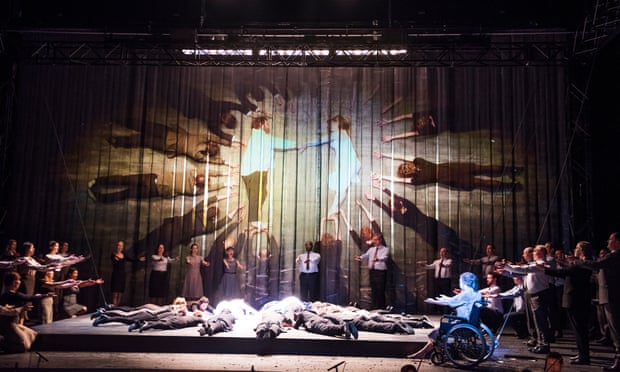 (Photo from the Guardian website)
Things are not getting better for our opera house at the London Coliseum. More negative news keeps coming in and the most recent is the livelihood of its Chorus which has been stated to reduce, including the number of opera productions taking place next year by ENO CEO, Cressida Polluck. With many internationally known musicians, performers, conductors, directors and classical music journalists signing a petition via @SaveEno (here), it is only a matter of time before the ENO's management has to face up to the inevitable and give the people (audiences, singers, performers, musicians and tax-payers), an answer to their financial dilemma.
Yet in the face of such crisis, the show must go on and the nation's supposed opera house has introduced a revival production of Complicite artistic director Simon McBurney, The Magic Flute, which was first shown in 2013. Admittedly I didn't enjoy that production; I re-read my review (here), which seemed like I was in agony by the end of it. Influenced by social media, however, with rave reviews of the revival's opening night, I got myself a ticket hoping that they were right and luckily I wasn't disappointed – phew!
The set hadn't changed much in three years – the ENO orchestra was elevated from the pit and a simple platform moved in mid-air. The staging was recycled from the last production but this time round the opera was executed to a better standard. Here's my reasons why.
Firstly, it seemed much more together; there was no fuss on stage among the performers and they seemed on top of what they were doing. Secondly, the voices of its brilliant cast were stronger. This was enhanced by stimulating conducting from ENO's resident maestro, Mark Wigglesworth. The grand overture, The vengeance of Hell by the Queen of the night and blissful duets such as Pa … pa … pa … were performed to a hugely satisfied mixed audience of children and adults. And thirdly, there were Finn Ross's video projections which were previously implemented, but here introduced with some extra additions, making it more imaginative and mythical (I won't spoil it by telling you what – visually – happens.) Overall, though, there was a real sense that the performers and singers believed in the production, making it a far more gratifying production. 
Allan Clayton and Lucy Crowe performed convincingly as star-struck lovers and although they were not the comedy starlets, they were able to stay in character while their zany companion creatures, Papageno (Peter Coleman-Wright), Monostrato (John Graham-Hall) and Papagena (Soroya Malfi) kept the childish humour of Mozart at bay. I had seen Crowe perform at the ROH in L'elisir d'amore, so I wasn't surprised she gave an impressively delicate and sweet sounding Pamina, particularly in her solo aria in the final act. 
Ambur Braid performed courageously as the wheelchair-stricken OAP version of the Queen. The ENO Chorus was tremendous in voice and played a pertinent part with McBurney's tacky paper birds. Coleman-Wright's Papageno, however, was much more friend-down-the-pub and had other handy gimmicks compared to the last production's bird catcher, Roland Woods. Though with saying that, they played a version of Papageno that was entirely their own. Woods was much more sharper in voice for Mozart's harmonious and witty music while Coleman-Wright wanted to make the audience laugh – and that's exactly what he did! James Creswell is the voice of authority, Sarastro and there was a moment when he looked on to the audience, as well as his political cronies, and said, 'we are in a crisis!' I thought he was referring to the ENO crisis but then I remembered this was the bit that they worry over Tamino's dedication to love and truth – BLAUGH! 
English National Opera: Norma
★★★★
Alastair Muir
[From Review first published at CultureVulture.net]
The English National Opera (ENO) first performed Bellini's 1831 bel canto opera, Norma this month. Christopher Alden's production was first presented by Opera North in 2012, which is a co-production with Die Theatre Chemnitz and has toured to Bordeaux ever since. Bellini put down on paper, 'Carve in your head in adamantine letters: Opera must make people weak, feel horrified, die through singing' and to many composers, artists and philosophers they were heavily affected by the composer's artistry.

There are no laughs or giggles to experience in this opera, and none to be felt in the ENO's production. The musical dramatics come in full swing when Norma discovers who Adalgisa's lover is, which causes anguish, misery and rage within Norma – so much so that she considers committing infanticide. It is this terrifying and empowering, emotional destruction that underpins Bellini's intense score and for director, Alden it makes sense to downsize the conceptual staging for a production where the cast and compelling score take centre stage.
Charles Edwards' woody and dry staging appears like a magnified log hut in the middle of a forest. In the middle is a large towering tree trunk that elevates toward the ceiling and down to ground. At some points in the production, the people (ENO Chorus) glorify it like a holy statue, symbolising the sanctity of their belief system, yet there's nothing eye-catching about the staging but only the cast, music and ENO chorus.
American soprano, Marjorie Owens took on the challenging role of Norma, which 19th century German soprano, Lili Lehmann once claimed was more demanding then singing all three Brünnhildes from Wagner's Ring Cycle'. Owens made her UK debut here and gives a refreshing yet strong Norma that captures the range of emotional struggles that Norma's character deals with throughout. Sung to George Hall's modest English translation, she sings fearlessly, touching on light, quiet notes from the beginning bars of 'Casta Diva', bursting with fiery pangs of passions in the final scenes.
Joining her, also from America, is Jennifer Holloway reprising the role of Adalgisa who is a brilliant actress. She sings with beauty, pathos and sympathy. Peter Auty performs as the womanising proconsul in Gaul, Pollione. Auty presents the lascivious truth of Pollione's character that he hides from the priestess and druidess, providing skill and texture to his voice that is much needed in Bellini's demanding music. Orovesco, Norma's father, sings with rich tones by bass, James Creswell (who also performs as Sarastro in the ENO's production of the Magic Flute) and supporting singers, Adrian Dwyer and Valerie Reid supply sensitivity and skill where needed.   
Conducted by Stephen Lord, who demonstrates his aptitude for bel canto repertory, the production was dramatic in narrative and the music's sublimity that could only come together from a solid hand (and baton) to guide the roaring and heartfelt score. The opening night permitted its ENO Chorus to take to the curtain call twice, which was well-deserved for this chorus-heavy opera. They give a phenomenal performance as excellent actors and singers. Unforgettable scenes come in the final act where Norma reveals her treachery to them, and in their pain, they fall to the ground, then abandon her. It stressed the significance of the ENO Chorus's role at the opera house at a time where their status is being compromised and negotiated by the ENO's management. 
Due to a word count I have to follow, I wasn't able to put down a couple of things to be wary of with watching ENO's Norma in my CultureVulture.net review. To put it bluntly, it is one of those operas that you are really going to love or really hate, and for me I found that I truly loved the music.
Listening to an opera where you can completely lose yourself in the music is one of the reasons  I love opera – and Norma is one of those operas, yet the production is, as I said, dry and woody as the staging, and the only beings capable of moving you are the cast, ENO Chorus and the gracious music, which has the ability to make you cry and feel vulnerable.
Another thing to note is that towards the last act, which was the most musically interesting, it took a long time to end and in some ways dragged. It was almost approaching 10.30pm and yes, I was tired (having had a long week at work already) but, surely, there must have been other ways that the production could have more appealing?
Should you go and see Norma, stick with it or at least go with the knowledge that there is nothing visually sophisticated to see and you must take the narrative and magnitude of the voices as they are.
Unexpected Opera: The Rinse Cycle, Charing Cross Theatre ★★★★★
Photograph by Robert Workman
I am an advocate of the fringe scene, a place where young and aspiring musicians and performers can reveal their trained voice and talent to an audience new to opera. Yet opera aficionados also like to check out small-scale productions too. Who knows if they might be seeing the next Maria Callas or Placido Domingo? (Honestly, who knows?) Some fringe opera companies are based locally while others go on tour, and this week I had the pleasure of seeing The Rinse Cycle by Unexpected Opera. It may sound rather cliché but I truly didn't know what to expect. The programme booklet reads, 'Wagner's Ring Cycle Conditioned with comedy and shrunk to 2 hours' and on analysis it did just that but in an inventive and intelligent way. 
Unexpected Opera's artistic director, Lynn Binstock is on a mission to bring opera to those who think it's not for them as well as those who are devout operagoers through engaging and hilarious productions, and I've seen some funny operas but this one took comedy to another level. From the very beginning scenes I wasn't sure when Wagner's Rhinemaidens were going to fly in but it really didn't matter at this point as I got stuck in to the bizarre laundry stage and odd props: Patisserie Valkyrie sign post, mermaid aprons, disputed leitmotifs, an ironed out sword, Norfolk accents and oven gloves for Wotan's giants.  Somehow Top Gun's Tom Cruise, with a phony American accent, also seemed relevant.
What's smart about this show is that it eases the audience in with its own light-hearted story. Ronnie (Simon Thorpe) and ex-opera singer Edith (Harriet Williams) are the married couple with son, Tim (Edward Hughes) while Hilda (Mari Wyn Williams) and Robin (Anna Gregory) are like the waitresses from BBC Comedy 'Allo 'Allo, who go through the trouble of delivering the Ring cycle in a shrunken down version for the audience sat in front of them. However Tim didn't hear his dad properly and thought he said Rinse – not ring, hence, the hypnotic washing machines on stage.
Though jokes aside, it is only by the end of the first half that you begin to get to the core of Wagner's music and all of that powerful Wagnerian singing. So while you may have spend the first hour doing stomach crunches in your seat, you'll be enlightened by real music drama, and the transition is, pretty much, seamless through the conviction of its passionate cast. 
There are two casts for this production and on the opening night Thorpe sung both baritone roles, as Wotan and Alberich, yet he also played other characters with strange accents, including Sean Connery, on his knees and standing up. He gave a sensitive performance for the audience by the second half. The same can be said for Williams who sung as Fricka and her voice was intense, bold and alluring – my favourite voice of the night! 
Photograph by Robert Workman
Mari Wyn Williams sung the prelude of Die Walküre almost effortlessly with utter assurance and she had multiple roles to go on including Sieglinde and Ronnie's secret flirt. I also enjoyed tenor Edward Hughes who was marvellous as Siegmund and Siegfried – poor Tim kept getting confused playing both roles, but Hughes rose to the occasion and hit all those brave notes!
Gregory has the vocal prowess for her roles as well ranging from Gutrune and Tim's knocked up girlfriend. Music director Kevin Lim had a shaky start on the piano but that was quickly forgotten when it came to performing the pithy and heartfelt songs sung by the cast.
Some may only prefer their Wagner operas to be heard as the composer wrote it, or wanted it to be performed in Bayreuth, but that would be elitist, wouldn't it? For veteran operagoers who don't mind letting their hair down, having a beer and watching a cheerful and slightly cheesy opera that speeds through Wagner's 16-hour opera and neatly trims it down to 2 (with a break in between), then this is a perfect antidote. This is mutually beneficial for opera newbies, too, who will still get a taste of Wagner's profoundly dramatic music straight up from a versatile cast. Hats off to Unexpected Opera for ending my week on a high and making me sing Hoyotoho with the crowd – honestly, no one predicted that would happen and I love surprises.
L'Étoile ends 24th February, 2016. (Click here for more information)
The Magic Flute ends 19th March, 2016. (Click here for the ENO website.) 
Norma ends 11th March, 2016 (Click here for more information) 
The Rinse Cycle ends on the 12th March 2016 (Click here for Unexpected Opera's website and information on the two casts.)
Dare I say, #ROHetoile is 1 of the best shows I've seen in 2016 – superb music,sweet voices &smashing entertainment! pic.twitter.com/inzfigrAoG

— Mary Grace Nguyen (@MaryGNguyen) February 15, 2016
Excellent night at the opera. An upgraded revival. Wigglesworth,Crowe &Clayton, #enoorch & chorus. ThankU! #ENOFlute pic.twitter.com/qiUk1VOLEK

— Mary Grace Nguyen (@MaryGNguyen) February 17, 2016
#Save the #enochorus #Enoflute @Save_ENO @E_N_O

Wonderful, talented singers! pic.twitter.com/dVhaPFBS1J

— Mary Grace Nguyen (@MaryGNguyen) February 16, 2016
Woaw! Bel canto on intense steroids! #ENONorma pic.twitter.com/DE4L20CCxj

— Mary Grace Nguyen (@MaryGNguyen) February 17, 2016
Patisserie Valkyrie! #Rinsecycle The perfect antidote for opera newbies & oldies @UnexpectedOpera @CharingCrossThr pic.twitter.com/HTEo9roNuP

— Mary Grace Nguyen (@MaryGNguyen) February 20, 2016